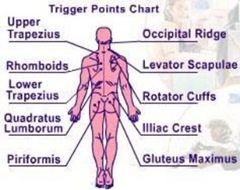 Trigger point injections are used to treat chronic pain in discrete, focal muscle groups in the neck, arms, legs, and lower back. These multiple muscle groups have trigger points, which are hyperirritable knots of muscle that are taut and which fail to relax. These cause local pain, which may also radiate or spread to other parts of the body. Although trigger points may be treated using nonsteroidal anti-inflammatory drugs, antidepressants, physical therapy and acupuncture, their effects are often short lasting compared to trigger point injections.
Trigger point injections may also be used to treat a variety of conditions, including fibromyalgia, tension headaches, temporomandibular joint pain, and myofascial pain syndrome.
How Trigger Point Injections Work
Trigger-point injection is a minimally invasive, safe, and effective way to inactivate trigger points and provide prompt, symptomatic pain relief. The procedure involves inserting a small needle into the patient's trigger points, which are located in muscle groups in the neck, arms, legs and lower back. The injection contains a local anesthetic and may include a corticosteroid to reduce inflammation. Usually, a brief course of treatment that is given in a doctor's office will result in sustained relief. Since the treatment uses locally administered medications, it does not have a widespread effect on the body; rather, only painful areas are targeted, and no systemic side effects are expected.
Patients benefit from this procedure because after the injection, trigger points are inactivated and inflammation and pain are reduced for several months, allowing the patient to resume normal activities and undergo rehabilitation or physical therapy while healing takes place.
General Procedure
A trigger point injection is an outpatient procedure performed by a qualified Chronic Pain Specialist who is an expert with the treatment. The patient is initially briefed about the procedure and prepared beforehand so that he is relaxed.
The patient is placed in a comfortable recumbent position (either prone or supine) to allow muscle relaxation. Trigger points are located by palpating the muscles and finding knots under the skin. Once a trigger point is located the overlying skin is cleansed. The doctor isolates the point with a pinch between the thumb and index finger to stabilize it and inserts a needle directed to the point. The doctor warns the patient of the possibility of a sharp pain, muscle twitching, or unpleasant sensation when the needle touches the tight muscular band.
A small amount of local anesthetic is injected into the trigger point. The doctor then withdraws the needle a little and redirects it in different directions under the skin, injecting small amounts of anesthetic in each direction. This is done until the local twitch response is no longer elicited or muscle tautness is no longer felt. Pressure is applied on the skin after the needle is completely withdrawn to stop any bleeding. A simple bandage is applied to cover the area.
Post-injection soreness may be experienced, but this is expected to resolve in a few days. Patients are encouraged to remain active, using a full range of motion in the muscles, but are advised to avoid strenuous activity a few days after injection.
Contact Us
Trigger Point Injection is a minimally invasive, safe, and effective means of treating muscle pain that is unresponsive to other forms of treatment. If you want more information about treating painful trigger points, contact our Pain Management Specialist who will examine you and conduct tests to determine the cause of your pain.  Make an appointment with the NYC's top board-certified interventional pain management physician to know if trigger point injections are a treatment option for you.