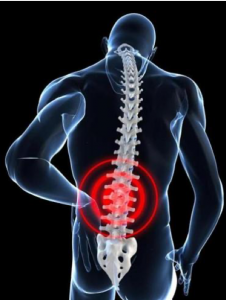 There are many types of back pains. Some pains come up suddenly while others start slowly and get severe with time. Common medicine can be helpful to treat some types of pains, but others require powerful drugs and surgeries to get back to normal life. At times, it is hard to find the source of the pain, but you can easily identify sciatica.
Sciatica is the pain caused by the irritation of the sciatic nerve. When this nerve irritates, it can cause pain, ranging from light to severe. It is usually caused by a dense nerve. This nerve is in the lower spine and runs from your hips to your feet. The pain might be acute or chronic. It hurts you in your bottom, feet, toes and the back of your legs. You may also feel weakness, numbness, and tingling, and the pain may cause stabbing, burning and shooting reactions. A slip of the herniated disk is the main reason for this pain. It is not a condition, but a symptom.
How Sciatica Works
The slip of the herniated disk in your lumbar (lower) spine is the main reason behind Sciatica. The flat, flexible, round disks of the connective tissue cushion and separate your vertebrae. Either due to injury or years of usage, this disk wears down. As a result, its soft center begins to push out from the hard outer ring.
When a disk herniates, pressure on the sciatic nerves builds, causing severe pain. This nerve is the longest in your body, which starts from lower back and splits into a network to run through your hips, buttocks, legs, and feet. Spinal stenosis can also put pressure on these nerves.
Causes of Sciatica:
Other causes of Sciatica may include:
1.     Spondylolisthesis
Affecting your lower vertebrae, Spondylolisthesis is a spinal condition. This condition is really painful. To cure this disease, doctors may use therapeutic and surgical methods. To avoid this condition, you should incorporate proper exercise techniques.
Symptoms:
Some of the common symptoms include:
Lower back tenderness
Thigh pain
Lower back pain
Back and leg stiffness
Tight hamstring and buttock muscles
2.     Lumbar Spinal Stenosis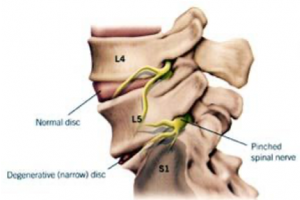 The lumbar spine is a group of five vertebrae in the lower part of the spine in between the ribs and the pelvis. Lumbar Spinal Stenosis occurs when the spinal cord narrows, compressing the nerves traveling through the lower back into the legs. Commonly, this may affect younger patients due to the development process but may affect people who are 60 and older as a degenerative condition.
The spinal canal usually narrows slowly, over many years or decades. Due to aging, the disk becomes less spongy and results in the loss of disk height, and hardened disk in the spinal canal turns bulgy. Ligaments may become thick and turn into bone spurs. The narrowing of the central canal is due to these conditions. Inflammation and compression of the nerve may cause symptoms.
Symptoms may include:
Pain, numbness or weakness in the legs, calves or buttocks
Pain radiating into one or both legs and thighs
Loss of normal bladder or bowel function (happens less often)
Improvement in the condition when lying down or sitting
Calves becoming stiff while walking, compelling to take quick breaks
3.     Degenerative Disk Disease
This condition occurs when one or more disks between vertebrae break down or change, leading to pain. This is an age-related disease. Spinal disks work as shock absorbers between vertebrae or bones of your spine and you can bend or twist with the help of these disks as they keep your back flexible. It shows signs of wear and tears when you grow old.
Symptoms:
Common signs of degenerative disk disease may include:
It may occur in lower back, buttocks and upper thighs
It may come and go
It may be nagging or severe
It can last for a few days or maybe months
Your pain may be worse when you bend, lift or twist and you feel better when you change positions and lie down
Call Dr. Matthew Grimm to Treat Your Sciatica
Degenerative Arthritis, lumbar disk disease, trauma or injury to the lumbar spine are some of the causes of Sciatica. Consulting a doctor and getting proper treatment may give relief quickly. If you need a Pain Management Specialist, call to book an appointment with our Pain Management Doctor. Dr. Mathew Grimm is an expert in treating all kinds of pain.
Matthew Grimm, M.D.
160 E 56th St
11th Floor
New York, NY 10022
646-862-5555