'Mechanical low back pain'
originates in the vertebrae, soft tissues, cartilage, spinal joints or discs, and supportive structures around the spine. This condition is also known as lumbar syndrome, lumbosacral strain or pain, lumbago, and idiopathic low back pain. Chronic low

back pain is one of the leading reasons people seek medical help. About four out of five adults will have experienced low back pain during their lifetime. While the most common cause is lumbar strain, symptoms can develop after cumulative repetitive trauma.
Acute and Cumulative Trauma can Cause Chronic Low Back Pain
Strains in the muscles, tendons and ligaments around the spine causes 70% of lower back pain incidences. This can arise from a sudden acute injury such as a motor vehicle accident or by ongoing trauma that often occurs in the workplace. Patients may cross a threshold and develop symptoms without significant injury.
There are a number of other conditions that can lead to chronic low back pain. These include sciatica, osteoarthritis, degenerative discs, kyphosis, scoliosis, arthritis, disc herniation, slipped disc, spinal stenosis, spondylolisthesis, fractures, trauma, pelvic anteversion, and pelvic retroversion.
Osteoarthritis, also known as degenerative joint disease, is a progressive condition caused by excessive stress along the discs and the bony structures of the spine responsible for maintaining posture. The other conditions mentioned also cause functional or anatomical abnormalities of the spine. We will address each of these topics in more detail in future blog posts.
In addition to mechanical factors, there are a number of non-mechanical causes of low back pain. Although non-mechanical causes are far less common, it is important to rule out the possibility of any diseases that may be affecting the body. If symptoms persist, then it is time to make an appointment with a pain doctor such as myself, to find out if there are any underlying issues that you may not be aware of.
Symptoms of Low Back Pain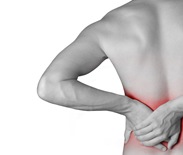 Symptoms of low back pain can vary quite a bit. Generally, symptoms involve cramping, stiffness, or muscle spasms. Pain in the back or buttocks can come on suddenly or can extend over long periods of time. When performing weight-bearing movements or other movement that add pressure to your spine, symptoms will increase. Often, symptoms are relieved within two or three days, but can persist for several weeks if left untreated. Avoiding triggering mechanisms is the best way to allow symptoms to dissipate initially.
If you experience an injury that causes nerve-root pressure, you may feel pain in your leg in addition to your lower back and/or buttock. Pain may arise gradually or come on quite suddenly. Nerve-related issues may also cause numbness or tingling in your legs.
If you are experiencing low back pain for greater than one week, seek treatment before the problem worsens and becomes a chronic condition. Often patients wait weeks and suffer needlessly when treatment is available. Great relief can be found with proper treatment administered by a professional. In addition, a doctor who specializes in back pain will be able to rule out any underlying conditions that may be aggravating the problem further.
Do not live with back pain any longer. Call our office today at 646-862-5555 to schedule a consultation and take the first step toward ending your back pain.