Are you considering injections for Chronic physical pain is a prevailing condition that arises due to several dozen reasons in seniors, adults, and even children. In fact, 50 million Americans (approximately 20% of the adult population) suffer from chronic pain conditions, which become highly probable after the age of 65. Did you do the math yet? That's one in every five American adults!
In general, chronic pain conditions cause complications in your daily routine and the tasks within. In simple terms, you experience difficulty performing regular tasks. There's a wide variety of causes for chronic pain, which necessitate precise diagnostics and treatment courses.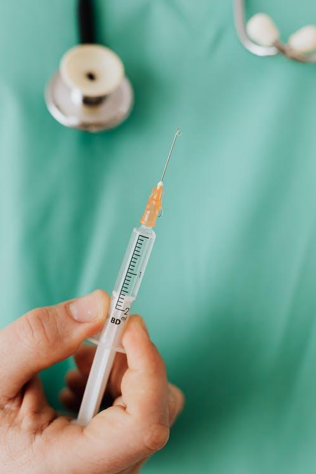 (Source)
For one, if the therapeutic and other non-medication treatments yield no results towards recovery, what's your next option? Injections! Of course, under the prescription and supervision of your pain physicians, they can offer long-lasting or even short-term relief.
Process of Pain Relief via Injections
Injections are extremely precise in delivering medication to the exact location (i.e., anatomic) to relieve chronic pains (e.g., back, neck, shoulders, arms, etc.). What's more? Injections to the spine can assist in detecting structural deformities or the presence of injuries. One example of such a situation is herniated disks.
Firstly, the precise insertion of medication into the pain source via injections reduces inflammation. Secondly, it creates heat gashes that prevent the pain-source (nerves) from delivering pain signals to the brain.
6 Types of Pain Management Injections
If other treatment methods fail to provide significant results, interventional pain management can incorporate the use of injections to provide relief. But, what are the different types of injections for pain management? What are their effects? Most importantly, what application compels the use of a certain injection type for pain management? Let's take a look.
1.     Facet Joint Injections
The facet joint injections deliver local anesthetics and minute dosages of corticosteroids under the guidance of live X-rays. While their prime application is the diagnosis of the pain source, they are also applicable in various treatment courses to alleviate the pain. Common places of chronic pain suitable for facet joint injections include the lower and upper back, neck, and buttocks.
2.     Major Joint Injections
Normally, the insertion of major joint injection occurs in the shoulders, knees, and /or hips to treat numerous chronic pain causes. Although they require ultrasound or live X-ray guidance, they are able to deliver anesthetics, corticosteroids, and/ or hyaluronan into the exact source of pain.
3.     Epidural Steroids
The administration of Epidural steroids injection entails the treatment of shoulder, back, leg, or even arm pain due to spinal nerve (roots) inflammation. Applicable for insertion under local anesthesia, epidural steroids are less harmful in the form of injections rather than oral intakes. Hence, they relieve pain while allowing detection of the source.
Combined with anti-inflammatory medicines, small dosages of corticosteroids are proficient in relieving pain, with effects lasting several months.
4.     Occipital Nerve Blockages
The back of the head (where your doctor will insert an occipital nerve blockage injection) is home to the occipital nerves, which connect your spinal cord to your scalp. Occipital Nerve blockage injections treat various headaches, as well as migraines. Generally, it is a 30-second procedure under local anesthesia that rarely contains any corticosteroids.

(Source)
5.     Sacroiliac (Joint Block) Injection
SI Injections treat pain in the lower back joint, which connects to the pelvis. Moreover, it functions to diagnose and treat chronic pain conditions. However, your pain physician will use fluoroscopic guidance to administer steroids following the initial delivery of lidocaine (a numbing agent). SI injection also paves the way for physical therapies and chiropractic adjustments.
6.     Selective Nerve Root Block
SNRB injection is applicable to treat pain from inflamed or compressed nerve roots of the cervical area because of a herniated or degenerating disk. SNRB injections allow the detection of the pain's source, starting from your shoulders down to your hands. The insertion of SNRB Injection results in long-term relief from the chronic pain in the nerve root.
Despite long-term effects, administration begins with the delivery of a contrast dye. Why? To establish a correct placement for the follow-up injection that contains cortisone and lidocaine.
Injections for Pain: Conclusion
After your pain physician considers your medical history and test results (imaging, diagnostics, physical and neurological exams), a pain doctor can use injections to seriously improve the quality of life of someone suffering from intense chronic pain.
Call 646-862-5555 to schedule an appointment with a physical medicine expert and pain physician, Matthew Grimm MD. Visit Spine New York City's official website for more info here.