What Is an EMG?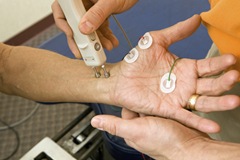 Electromyography or EMG is a study of the electrical activity of muscles. If you have numbness or weakness your doctor may request an EMG to determine the cause. In cases of neck or low back pain associated with numbness or weakness of an arm or leg, an EMG can help to identify which nerve root is compressed or irritated. This can help guide treatment decisions.
An EMG test is routinely accompanied by a nerve conduction study in order to definitively identify the level of nerve involvement. In other words, your doctor wants to make sure that your leg numbness or weakness is not caused by a problem of your peripheral nerves.
Procedure: How is an EMG done?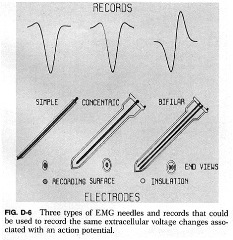 Under sterile conditions, a very fine electrode is inserted into select muscle groups to measure their electrical activity at rest and during contraction. The electrical activity is visualized on a computer monitor and analyzed by the performing physician.
During the nerve conduction portion of the exam, select peripheral nerves are stimulated electrically and responses of the appropriate muscle groups are recorded. This test determines the integrity and function of your peripheral nerves.
Indications for an EMG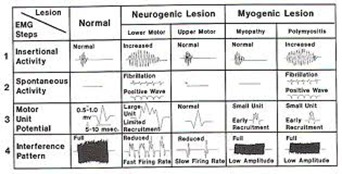 An EMG and nerve conduction study is frequently performed in cases of neck or low back pain specifically for the purpose of identifying cervical or lumbar nerve root irritation. Assuming that nerve root irritation has been present for at least three weeks, the test can aid in localizing the level and severity of nerve root involvement. An EMG is a valuable adjunctive test in the evaluation of neck or low back pain when nerve root irritation is suspected.
If you suffer from neck or back pain, contact the best pain doctor in NYC, Dr. Matthew Grimm to schedule an examination.