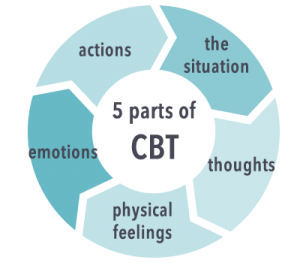 Cognitive behavior therapy is one of the options your doctor may recommend for the treatment of pain. Pain management is the goal of finding a way to reduce the amount of pain felt by a person. What we know about pain is that it occurs for many reasons and for some people, it is more severe than for others. In some situations, there is an emotional or mental connection to pain. In some of these situations, the use of cognitive behavior therapy can be helpful in overcoming those intense, painful moments.
What Is Cognitive Behavior Therapy?
Cognitive behavioral therapy is a type of psychotherapy. It is a type of therapy in which the thoughts and behaviors of an individual are believed to be contributing to the negative way a person feels. The negative feelings experienced in these individuals leads to more sensitivity to pain. That is not to say he pain isn't real. In this type of treatment, the goal is to reduce pain by reducing negative feelings.
There are many strategies that can be utilized as a part of cognitive behavioral therapy in the treatment of pain. Generally, it takes time for doctors to determine the best possible treatment option for the patient, since some methods may not work as well. The goal of this therapy is to:
Improve coping skills of the individual in dealing with pain
Increase the individual's level of confidence
Improve self efficiency in the management of pain
Aid in changing how you behave and respond when pain occurs
Is this type of treatment right for everyone? Most people can benefit from a pain management program that does address some level of cognitive therapy. However, the type and amount of help it offers will differ from one person to the next. Keep in mind that this should be just one-step in your treatment, not the only step.
To find out if cognitive behavior therapy for pain management is right for you, come in to our offices to discuss your condition. When your doctor talks to you, you'll learn more about how this and other pain management methods can help to improve the way you go through your life and aid in reducing the amount of pain that you feel. For many people, it is quite life changing. Let us help you. Call our New York offices today to learn more.