Treat your pain and live a better life…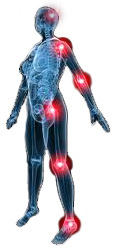 Welcome to my blog about pain. Unfortunately, many people suffer from chronic pain. As a board certified physician in physical medicine and rehabilitation, my specialty is treating these people with both acute and chronic pain.
A majority of my practice is working with patients that are experiencing back and neck pain.
My goal with this blog is to help patients who are experiencing any type of back or neck pain to understand what is causing their pain and discuss options that are available to end their pain. I hope to be able to provide readers with a portal that they can can use to educate themselves and facilitate treatment.
My specialty is my Interventional Spine Skills including cervical and lumbar epidural steroid injections, facet injections, medial branch blocks, Radiofrequency ablation, sympathetic ganglion blocks, spinal cord stimulator trials, sacroiliac joint injection, piriformis muscle block and musculoskeletal joint injection. I also perform many other procedures to alleviate acute and chronic pain.
I hope you enjoy reading my blog as much as I enjoy writing it and observing people from all over the world reading it.
– Matthew Grimm, M.D.